This was one was a real good show
Special Guest Star:
Tone Tank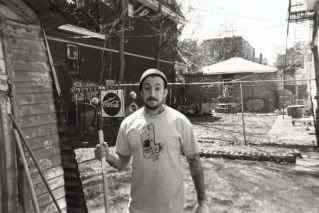 We had first ever guest this week, Mr.
Tone Tank
who's new EP is available for free download at
www.Scumlife.com
Also:
We now have a mailbag.
Send all your questions, comments, queries, playful barbs, shout-outs, vitriolic rants, song requests, hate mail, or nude photos to
Chanceswithwolves (at) GMAIL (dot) COM
We'll be reading the most interesting letters out the mailbag on the show. So don't scrimp -come wid it.
PLAYLIST:
Introductory excerpt from "Teen Wolf Too" Staring Jason Bateman
First girl I Loved - The Incredible String Band
Like Running Water - Clarence Reid
The Fuzz - Diane & Carole, & The Watchamacallits
Dumb Head - Ginny Arnell
Bury Me In My Shades - Casey Anderson
Your Beat Kicks Back Like Death - Jans Lekman
But I was Cool - Oscar Brown Jr.
Check My Machine - Paul McCartney
Ain't No Love In The Heart Of The City - Bobby Bland
Salt of The Earth - Violinaires
Black Gold of The Sun - Rotary Connection
Transmissions - The Turtles
(Intermission)
Only In America - Tone Tank
Modern Rhymes - Cool Calm Pete
Cod Liver Oil & The Orange Juice - Hamish Imlac
Stay Close To Me - Bad Brains
Now I Taste Tears - Fearns Brass Foundry
Only Black Man In South Dakota - Andre Williams
You Ain't Going Nowhere - Robert Zimmerman
Stay With Me - Sharon Tandy
Trouble, Heartache, & Sadness - Ann Peebles
Hollywood Hopefull - Louden Wainwright III
Dead Man's Stroll - The Revels
Jealous Guy - Donny Hathaway
Hey There Sunshine- The Pre-Cambrian Lightning Bolt
Six Trey- Freestyle Fellowship
Change - Shades of Brooklyn
(Intermission)
Ali Baba - Jon Holt
Strangler in The Night - Albert Desalvo
The Bottom - Duke Payne
Cry Me A River - Kevin "King" Lear
Finally Found You Out - Julie Driscoll, Brian Auger, and The Trinity
I Smell A Rat - Big Mama Thornton
Charlie Brown - Ghostface
Ave Lucifer - Os Mutantes
Satan Is Real - The Louvin Brothers
Number One - Bill Mos
(our Goodbyes)
Anythang - Devin The Dude
Peace Out
********CORRECTION: That's not Bob Dylan on that Hennesy Poster. He did do a Victoria's Secret add though so....it's on you, really. I can't call it.